How long does a bank transfer take?
Many people transfer money between bank accounts because they feel that it is the safest and most reliable way of sending money. But how long does a bank transfer take? Well, it depends where you are sending to. The wait time for bank to bank transfer can be seconds or can be days or even weeks!
It sounds incredible that a bank transfer still takes so long in this age of technology. For those people for whom the waiting time is not a problem, that's fine but what if you are in a hurry?
Why do bank to bank transfers take so long? Why do transfers between some banks take longer than others? What's behind the transfer, and is there any way to speed up the process? Keep reading to find the answer to this and more questions.
What Is a Wire Transfer?
A Wire Transfer or bank transfer is a method of electronic funds transfer via a computer network. It is usually made from one person or company to another or from one bank account number to another bank account number. A Wire Transfer can also be made by depositing cash at a branch with the funds deposited to another account. The diagram below has a simplified explanation.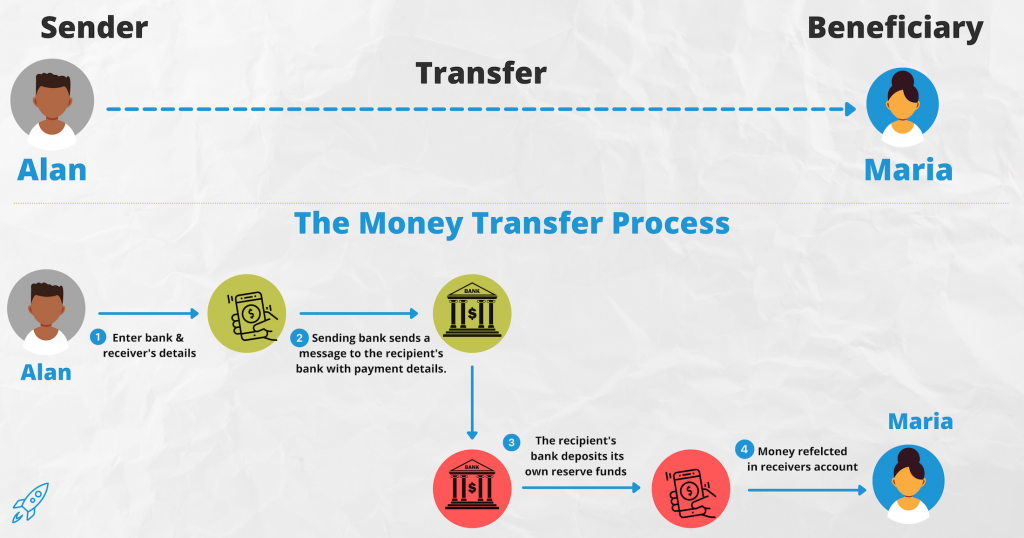 How does a Wire Transfer work?
– The sender pays for the transaction upfront at their bank.
– The sending bank sends a communication to the recipient's bank, including payment instructions by a secure system, such as Fedwire, SWIFT or another system such as the Faster Payments System.
– The recipient's bank receives the required data from the initiating bank and deposits its reserve funds into the beneficiary account.
– The two banking institutions then physically settle the payment on their back end.
How long does it take to transfer funds from one bank account to another?
The time is takes to transfer money from one bank account to another depends on a few things. The main difference is if the transfers are within the same bank or a different bank. Same bank transfers are usually faster and transfers to another bank are slower.
Between Accounts at the same bank
Transfers between your accounts (including your linked mortgage and personal loans) and most of your other accounts in the same bank should usually take just seconds. This is because the transfers occur within the banks own internal systems.
First-time payments to a new recipient including to or from your company accounts can sometimes take longer. This is because of extra fraud checks that your bank may need to do.
Here are some other points to remember:
– Transfers made to a new bank account for the first time can sometimes take longer. This is because of extra fraud checks that your bank may need to do.
– Banks do not check the name of the account when making the transfer. They only use the account numbers. You need to make sure the account details are correct!
To other financial institutions at another bank
The transfer time to other banks will depend on when you make the transfer and the agreements between individual banks.
– Payments or transfers to another bank will regularly transfer overnight on the next business day. Payments or transfers sent after business hours usually will not be reflected until the next business day.
– Sometimes, payments or transfers to another bank may happen on the same day but this is not always guaranteed.
– Services like OSKO do allow payments to be made instantly between participating banks however not all bank account support OSKO.
– Payments or transfers to different Australian financial institutions are usually available in the recipient's account within 1–2 business days just if it is made before 6 pm. on a business day.
Here are some other points to remember:
– Transfers made after business hours are usually received the next business
– Transfers made after business hours on a Friday are usually not received until the next business day (e.g. Monday).
What is a PayID?
PayID is the name of the Australian NPP's (New Payments Platform) directing service. Instead of giving our bank numbers and account numbers, you can use simpler, easy to remember information to make a payment. People then just use this simple information to pay you.
For example you can use your mobile number, email address or ABN and link this to your account. Users can give their PayID, rather than their BSB and account number to receive payments in real-time.
I know that's a lot to take in, but bear with me…
PayID payments are usually processed within a few minutes. First time payments may be retained for 24 hours as a protection action against fraud.
If you don't want to share your BSB and account number, you can use PayID. However, it does not replace BSB and account numbers. It gives an option simpler way to address payments for people or businesses.
ACH transfer
ACH (Automated Clearing House) transfers is a way that payment are managed between banks. This is a payment switching system normally run and managed by a Central Bank, another payments system regulator or clearinghouse.
It is possible you are making some payments using an ACH without even realising it. ACH transfers are often used for bill payment processing, automatic debits and direct debit transactions. Your bank will automatically select ACH for certain transactions you make – you cannot "select" to make an ACH transfer.
What payments are made using ACH Transfers?
Here are some examples of bank payments made by ACH transfer:
– Payments via direct deposit.
– Paying bills online using your bank account.
– Making recurring deposits into an individual retirement, a brokerage or a savings account.
– Business owners who pay merchants or accept payments from customers.
ACH payments are processed in batches several times a day at set times during the day.
In Australia, BPAY is a special type of ACH transfer. BPAY transfers are batched and processed at the end of the day. In some cases, BPAY transactions can be transferred faster.
International Money Transfers (IMT)
International Money Transfers are a way of transferring money to a foreign country. It usually takes 3 business days to process an IMT, but may take longer depending on the recipient's country and bank. But there is an alternative way to make international transactions much faster! Mobile Money!
But where can I find out more… ?
International Mobile Money Transfer
Mobile Money Transfer is a technology that allows you to send and receive money using a mobile phone. This means that a mobile phone is no longer just a communication device – it's now also a money wallet.
Mobile Money is sometimes also called a 'mobile wallet' or by the name of the service such as GCash (Philippines), mPesa (Kenja), M-PAisA (Fiji), EcoCash (Zimbabwe), Tigo Pesa, MTN Money and many more. There are now more than 290 Mobile Money services around the world. Click here to learn more about How does Mobile Money transfer work?
About Rocket Remit
Rocket Remit is the worlds fastest international money transfer service. Send money instantly to over 40 overseas countries at very competitive rates.
Use the country selector to choose the country and check the rate.
Click here for more information on how to send money using Rocket Remit.